ICKET 2019 | August 23-26, 2019 | Prague, Czech Republic
ICKET has been held since 2012. In 2019, we witnessed ICKET another success again. We are pleased to have accepted 63 presentations (initially from 108 submissions) coming from 27 regions and countries including Brazil, Brunei, Bulgaria, China, Czech Republic, Ecuador, France, Greece, Hong Kong, India, Indonesia, Israel, Japan, Jordan, Kuwait, Morocco, Nigeria, Norway, Pakistan, Poland, Russia, South Africa, South Korea, Switzerland, Taiwan, Thailand, United Kingdom. The presentations are divided into 1 poster session and 6 parallel sessions. Prof. Alexander Balinsky from Cardiff University, United Kingdom; Prof. Jalel Ben-Othman from University of Paris 13, France; Prof. Kazumasa Oida from Fukuoka Institute of Technology, Japan; Prof. Atour Taghipour from University of LeHavre, France; Prof. Hiroyuki Kameda from Tokyo University of Technology (TUT), Japan delivered the keynote speeches during the conference. Every presenter also performed a good presentation and take an active in share and discussion.
We'd like to express our heartfelt appreciation to our chairs, sponsors, technical program committee members, organizing committee members, authors and delegates, who made a lot of efforts and contributions year by year. Thanks to your support and help, we can hold this conference successfully and always keep making progress.
| | |
| --- | --- |
| Group Photo-ICKET 2019 | session group photos of ICKET 2019 |
KEYNOTE SPEAKERS

Prof. Alexander Balinsky from Cardiff University, United Kingdom delived a speech on Mathematics of Deep Learning.

In this talk, he presented mathematical foundations of Deep Learning, relations with physics, features extraction and interpretability. And also explain mathematics behind adversarial attacks and how to protect against them. Several new mathematical problems will be presented.

Prof. Jalel Ben-Othman from University of Paris 13, France had a talk on Threats and solutions for connected vehicles in Cyberspace

In this keynote, he presented issues about availability problem in those networks and architecture, he also focused on Vehicular Networks, and showed some works we have done and other works to improve security in those systems.


Prof. Kazumasa Oida from Fukuoka Institute of Technology, Japan focused on Information Diffusion and Community Structure in Online Social Networks

Information diffusion in online social networks has been extensively studied by many researchers because a widespread diffusion phenomenon occasionally occurred paving the way for other phenomena, such as public opinion formation or rapid growth of video viewers. This research has also been related to using social networks for viral marketing.
In this talk, he commenced by presenting our data on how product advertising campaigns structurally change Twitter communities. Then next he explored the correlation between the community structure and the dynamics of information diffusion from the viewpoints of analytical models and simulation experiments.


Prof. Atour Taghipour from University of LeHavre, France who did a speech on Goal setting and planning : an action framework

Goal setting is the first step towards success. However, goals can only be reached through a vehicle of a plan. During this speech, we explain the main steps necessary to set the goals. Then, using the result of our research, we show that motivation isn't the key to achieving the goals and what drives us to to achieve the fixed goals is planning. The presented method can be used by individuals to achieve their objectives.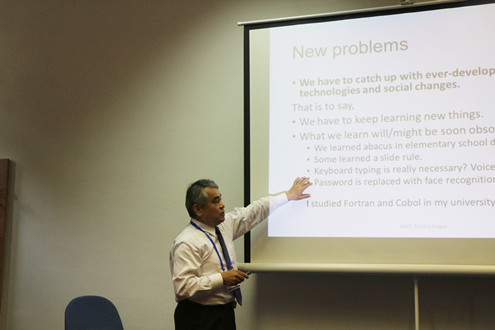 Prof. Hiroyuki Kameda
Tokyo University of Technology (TUT), Japan
Speech Title---A Challenge for New Education in Computer Science
How to develop the ability for students to learn sustainably in a fast-changing society
Speech Abstract--- As you'd know, mankind has already experienced three Industry Revolutions which were driven by the invention of steam engines, stable supply of electric power, and the Internet ( the open information high way). The first one happened around between the last half of the seventeenth century and the first half of the eighteenth century, the second one at the first half of the twentieth century, and the third one at the last half of the twentieth century. And now, just at the beginning of the 21st century, a new industrial revolution is happening just by artificial intelligence (Deep Learning), Big Data, Blockchain. These facts show the interval of industrial revolutions is becoming shorter and shorter. On the other hand, modern sciences, for example, life science, medicine and so on make our life span longer and longer than before. For example, in Japan, some researchers say the life span of Japanese, especially, of women, will reach 100 years. Whether it is true or not, young people in this century must keep leading a healthy and happy life in a changeable society for a long time. Especially for students in Computer Science, what they are just now studying hard at school might be partially useless in several years. In such a situation, education plays a very important role for young students, and should inevitably change to establish a new way of learning for young people in the next young generation.
In this presentation, the speaker, a Professor of computer science, shows some case studies of computer science education in Tokyo University of Technology, addressing both social background in Japan and problems of the school of computer science in the university. A new on-going educational trial also is presented in some details. One is a workshop course in which students create a well-selling game software from game concepts creation through game implementation to a presentation of selling campaign. The other is the software application planning of sightseeing promoting campaign for Hachioji City, where their university lies.
The conclusions are as follows; the essences of education in the 21st century are that teachers should lead students to learn in an effective, tailor-made way, and that students should learn how to learn sustainably in one's own way.
Session Group Photo Gallery

Session 1-Data Mining
Paper Title: FinMARS: A Mobile App Rating Scale for Finance Apps
Presenter: Carlo Schmid
Affiliation: ETH Zurich, Switzerland

Session 2- Education Science
Paper Title: Intellectual Property: How Well Undergraduate Students Aware of?
Presenter: Kelvin C. K. Wong
Affiliation: Hong Kong Baptist University, Hong Kong

Session 3: Machine Learning Applications
Paper Title: Energy-Efficient Associations for IoT networks with UAV: A Regret Matching Based Approach
Presenter: Abdellatif Kobbane
Affiliation: ENSIAS, Mohammed V University, Rabat, Morocco

Session 4- Software Engineering
Paper Title: End-to-End Wireless Control Plane for SDN in Data Centers
Presenter: Umair Mujtaba
Affiliation: City University of Hong Kong, Hong Kong

Session 5-Pattern Recognition and Classification
Paper Title: Changes in online user behavior: Generation Alpha
Presenter: Riaan Rudman
Affiliation: Stellenbosch University, South Africa


Session 6-Electronic Technology Applications
Paper Title: Improved User Experience in Digital Library through Advanced Content Synthesizing
Presenter: Desislava Paneva-Marinova
Affiliation: Institute of Mathematics and Informatics at the Bulgarian Academy of Sciences, Bulgaria